Whether you are currently inactive or are a seasoned runner, Scranton Running Company's Barrier Breakers has a training program that will start at your current ability level to help you reach your fullest potential. Our training programs are so much more than a workout. Graduates are known for reaching their goal as well as being prepared physically and mentally... not to mention making new friends along the way!
Who's Leading Barrier Breakers?
Coach RJ Stiltenpole
Barrier Breakers is developed and led by Coach RJ Stiltenpole, the Program Director & Head Coach, since 2011. Born in Scranton, RJ 's introduction to the sport of running was as a member of the Scranton High School cross country and track teams. In the years since, he's maintained a passion for both running and health & wellness.
He is a graduate from Marywood University with a degree in Exercise Science and a minor in Coaching. RJ was a 2016 finalist for the prestigious Brooks Inspiring Coach of the Year Award, which is a multinational award with over 2,000 coaching nominees. He is also a Level 1 USA Track & Field certified coach. While at Marywood, RJ 's studies emphasized areas such as gait analysis, sub-maximal stress tests, V02 max testing, electrocardiograms, body composition testing and general injury prevention.
RJ was a three-year captain of the Marywood's cross country team. He also received the CSAC Runner of the Year Sportsmanship Award in 2007 and in 2009 (in 2008 he went bad boy on the league). RJ has competed in numerous road races and is a multiple Steamtown Marathon finisher. No matter how many races he's run in, RJ's greatest running and coaching achievement is the development and growth of the Barrier Breakers programs. Barrier Breakers has been a way for him to give back to the running community, which has so greatly given to him.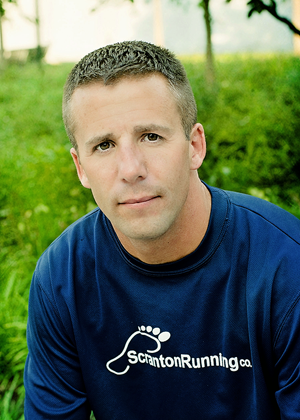 What Do Barrier Breakers Programs Offer?
Training Plans - our training plans are specific to local races
Pace Groups - there are coaches for paces every 30 seconds, so no one is left behind
Educational Clinics - covering topics such as injury prevention, hydration, nutrition, motivation and goal setting, dressing for success, race day prep, and more
Group workouts - why do it on your own?
Camaraderie - train with other just like you
Coaches and Mentors - these dedicated folks have run and walked in your shoes
Special Discounts - offered on dedicated nights to our participants
Social Events & Parties - supported by our partner, Brooks Running
The Benefits of Group Training
Here are just a few...
Fun

Motivational

Accountability

Safety

Educational

Experienced Coaches

Improved Performance - coaches and others will challenge you to perform your best

Camaraderie

Supportive

Social - meet new friends!